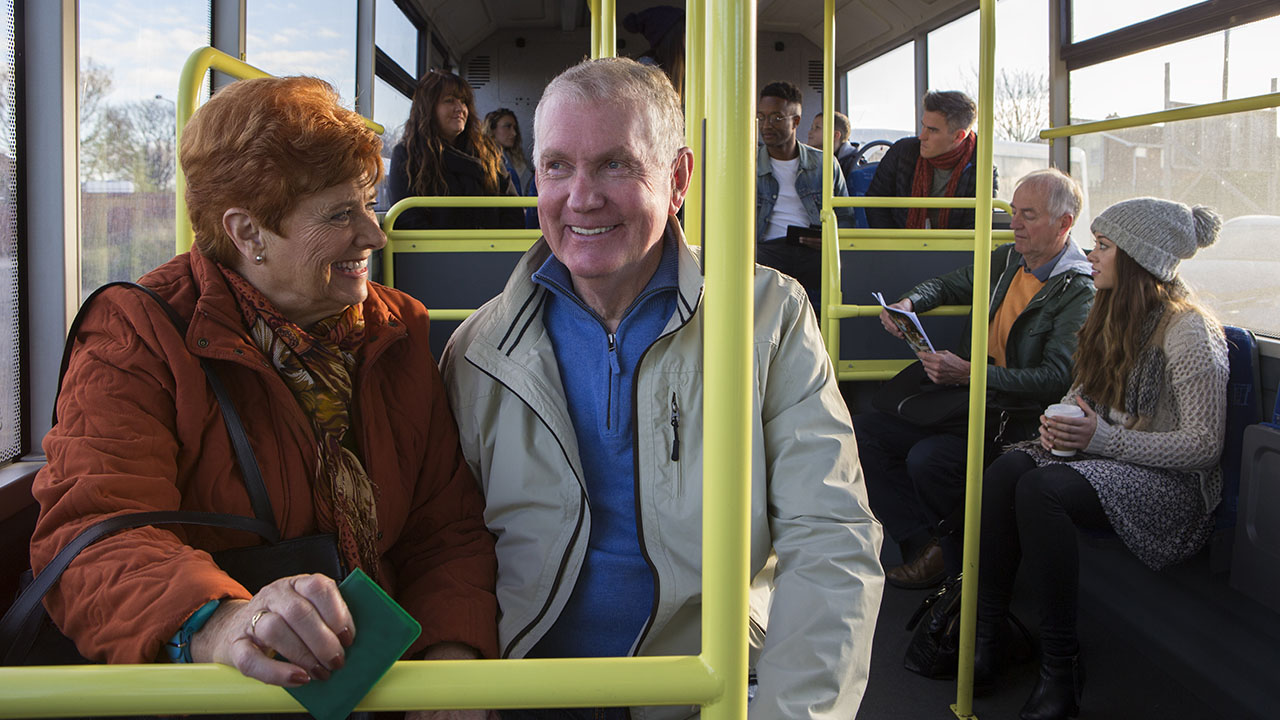 Continuing to live an independent and active life without the convenience of driving is a challenge for those transitioning to driving retirement. This is a significant transition and your loved one may need your support and advice as they learn to navigate the world in a different way. With planning and support, many seniors are able to continue participating in many or all of the daily and social activities they enjoy.
One of the things you can do to support your loved one is help them make a list of their current transportation needs, types of trips, typical times of travel, etc. Once you have a list, you can help them figure out which method of transportation makes the most sense for each type of trip they typically take. In some cases, taxis, shuttles, or public transit may make the most sense, while in other circumstances you may be able make informal transportation arrangements. You may find, for example, that a family member, friend, or neighbor is happy to bring your loved one along on their weekly trip to the grocery store or pick them up for church services.
Transportation alternatives include:
Ride-sharing/Carpooling
Public transportation
Paratransit services (provided by local public transportation agencies, community groups, not-for-profit organizations, or for-profit private companies)
Shuttle buses (offered by some churches, senior centers, and non-profits)
One of the keys to determining the best transportation solution is to consider things such as cost, availability, and convenience. The Hartford has created a worksheet to help caregivers with the types of questions and considerations they should be thinking about as they help their loved one plan for their future transportation needs. The Getting There Worksheet, located within the We Need to Talk guidebook, is a free resource and useful tool for planning alternative transportation. Additional transportation worksheets are included in The Hartford's At the Crossroads guidebook. While this guidebook specifically addresses drivers with dementia, the transportation planning worksheets in the back are useful for all drivers.
In addition to the planning resources mentioned above, the questions below can help you figure out which options are the best fit for the needs and lifestyle of your loved one. Often, this type of information can only be gathered by contacting the agency providing the service. This process can be overwhelming and time-consuming. Making some of the calls or sitting with your loved one as the calls are made can be a good way to offer support and assistance to your loved one.
Questions for transportation providers:
Are there any requirements to qualify for the service?
Are vehicles equipped for wheelchair users and the disabled?
Are family members able to serve as an escort? Is there an additional charge?
Is the service door-to-door or curb-to-curb (i.e. do they help you get to and from the car)?
What is the service area?
Will the driver assist with bags, wheelchairs, etc.?
Are rides provided on the weekends, evenings, and holidays?
If others are riding at the same time, what is the maximum time for pick up and drop off?
What is the cost?
How are fees calculated?
Are there any discounts? (e.g., is my income a factor?)
Is there a membership fee?
Is a reservation needed? How far in advance?
Will my insurance pay for rides?
(source: adapted from seniorliving.com)
Once you have considered the options in your community, it is often helpful to practice using some of the available services. Your loved one may feel more at ease if you or another family member or friend rides along with them until they are comfortable using the different services.
For North Carolina specific alternative transportation information, visit the NC Department of Health and Human Services' Transportation Services for Older Adults.
The NC DHHS publishes a list of North Carolina transportation agencies based on county. This downloadable pdf is available on their website or you can access it by clicking here: NC Transportation Providers. A list of medical transportation providers by county is available here: NC Medical Transportation Providers.
National resources for finding transportation options in your community include the National Volunteer Transportation Center.