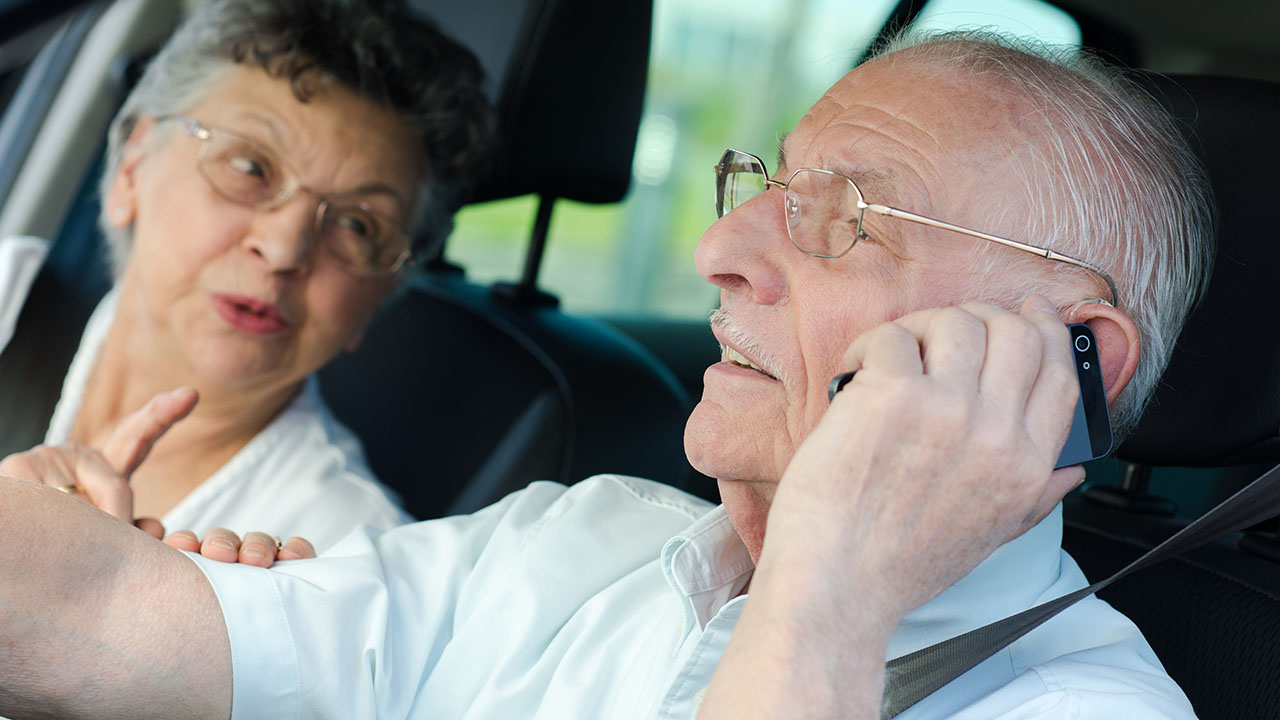 Age-related changes to the body and mind can affect a driver's ability to perform some of the complex tasks needed for safe driving. However, these changes do not have to mean an end to driving. Often, adjustments can be made to minimize the effects of aging and keep drivers safely on the road longer. These adjustments include choice and fit of vehicle, driver's training, good planning, and staying active and fit. Click the links below for more detailed information on each of these topic areas.

Your Vehicle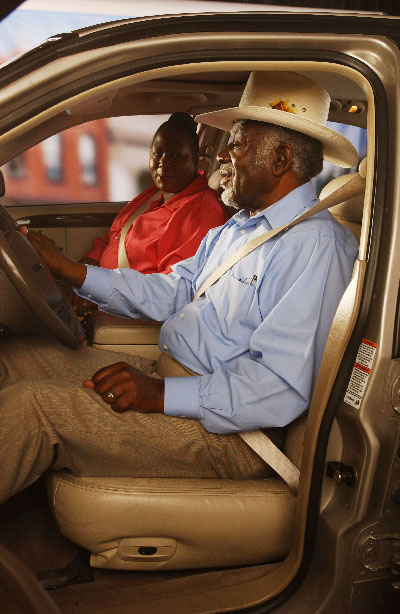 When thinking about whether someone should continue driving or not, we often focus solely on the driver and forget to consider the vehicle itself. As drivers of any age begin to experience changes in their physical abilities, sometimes simple adjustments to their car can be made to improve safety. Drivers in the market for a new car, including previously-owned vehicles, may find there are a lot of newer features available that will help improve safety and increase the amount of time they can continue to drive safely. To find detailed information on available safety features, visit the My Car Does What website created by the National Safety Council and the University of Iowa.
Fit to Car
To help aging drivers improve the fit between themselves and their car, AAA, the American Occupational Therapy Association, and AARP have collaborated to create the CarFit Program. The aim of the program is to evaluate the fit between an older driver and their car and make recommendations to improve fit and safety. These recommendations might be as simple as mirror adjustments or may include more complex suggestions. To get more information or find a local program, visit the CarFit website.
Buying a New Car
Newer vehicles can come with a lot of different features that can help older drivers continue to drive safely for longer. To help people navigate the sometimes overwhelming options, AAA has created a brochure detailing the features that can be beneficial for aging drivers. This informational brochure can be located here: Advanced Driver Assistance Technology for Older Driver Safety
Vehicle Safety Ratings
Knowing how well your car, or the car you are considering purchasing, holds up in a crash can be an important factor in overall safety. Due to the normal aging process, seniors have a higher risk of being seriously injured or killed when involved in crashes. Because of this, vehicle performance in crashes is even more important for older drivers. Both the National Highway Traffic Safety Administration (NHTSA) and the Insurance Institute of Highway Safety (IIHS) offer safety ratings, which can be useful in determining if your vehicle is safe and help in guiding a decision about new car purchases.
NHTSA created their "5-Star Safety Ratings" program to give consumers information about the crash protection and rollover safety of new vehicles. In the 5-Star ratings, more stars equal safer cars. NHTSA began the 5-Star Safety Ratings program in 1978 and provides safety ratings to consumers so they can compare vehicles when shopping for a new or used car. These ratings can be found on the NHTSA website.
IIHS tests both the crashworthiness and crash avoidance/mitigation of vehicles. Crashworthiness refers to how well a vehicle protects drivers and occupants in a crash. Crash avoidance and mitigation refers to systems that can either prevent a crash or lessen its severity. IIHS rates vehicles based on how well they protect occupants in five different crash tests. For crash avoidance and mitigation, IIHS assesses vehicles based on the types of systems they have and how well they perform during track tests. These ratings can be found on the IIHS website.

Skills Assessment
Driver Evaluation and Rehabilitation
For drivers who would like a more formal evaluation and individualized feedback on strengths and weaknesses as well as information on how to improve driving and safety, visiting a Driver Rehabilitation Specialist is a good option. These specialists conduct full evaluations and offer individualized feedback and training that can keep drivers safely behind the wheel for longer. Unfortunately, driver rehabilitation services are not typically covered by insurance, except under certain circumstances. Your provider can help you determine insurance coverage and out of pocket expenses. To locate a driver rehabilitation specialist in your area, visit:
The Association for Driver Rehabilitation Specialist here
The American Occupational Therapy Association here
Or call the Association for Driver Rehabilitation Specialist: 1-866-672-9466
To learn how a driving rehabilitation specialist can help an older driver adjust to impairments caused by medical conditions and stay safe behind the wheel, watch the video prepared by NHTSA below.
For more information on the services provided by Driver Rehabilitation Specialists, visit the AAA Evaluate Your Driving Ability page.
Self-Assessment
An important step in determining if and when you should consider driving retirement is to have your skills evaluated. Once evaluated, you can better decide what adjustments might be needed in order to continue driving safely or whether is it time to retire from driving. There are several self-assessments available that can be completed from the comfort of your own home at your convenience. While these self-assessments might help determine areas of strength and weakness and offer suggestions and next steps, they are not comprehensive and should not be used to determine if or when to retire from driving.
Important note: Self-assessments should be used with caution since independent evaluations have not been able to show that they predict actual driving performance. Self-assessments that focus on physical and medical conditions may have some value as screening tools to identify gross impairment, but not to determine overall fitness to drive.
AAA Drivers 65 Plus is a short, self-scored assessment. Drivers 65 Plus includes a 15 question self-assessment, as well as facts and suggestions for safe driving with the primary goal to help drivers continue driving safely for as long as possible.
SAFER Driver is a comprehensive evaluation tool created by the University of Michigan Transportation Research Institute. This free online tool contains 3 section (seeing, thinking, and getting around) which each take approx. 5-10 minutes to complete. Once you have finished the entire assessment, the interactive tool provides feedback on areas of concern as well as suggestions.
Visiting a Driver Rehabilitation Specialist is a good option for drivers that would like a more formal evaluation and individualized feedback on strengths and weaknesses as well as information on how to improve driving and safety. These specialists conduct full evaluations and offer individualized feedback and training that can keep drivers safely behind the wheel for longer. Learn more about Driver Rehabilitation Specialists see the section above.

Training and Education
Driving is a complex skill that requires practice and continued learning. As the driving environment changes and becomes more complex, drivers can benefit from refresher courses and activities that focus on improving specific skills needed for driving.
Driver Refresher Courses
There are numerous driver refresher courses available both online and in person. These courses are designed with older drivers in mind, focusing on the areas that are most important for continued safety. While these courses offer a review of laws and challenging driving situations, they do not assess current skill level or offer individualized feedback. In addition to the information gained from participating in one of these courses, some insurance companies offer rate reductions upon completion. Most of these courses are fee-based. Contact your insurance company or agent to find out if taking a refresher course can qualify you for reduced insurance rates. The following list includes a sample of courses offered and is not an exhaustive list.
AARP offers a driver safety course that individuals can take in person or online. To find more information, locate a course near you, or register for an online course, visit the AARP Driver Safety Program here.
I Drive Safely offers an online course available through their website. Visit the North Carolina page of I Drive Safely for more information.
AAA also offers an online course. Course information can be found on the AAA Website. To sign up, click on North Carolina on the interactive map.
Brain Training
Learning new skills challenges your brain and helps keep it sharp. While activities such as puzzles and crosswords are fun and engaging, there may be even more benefit from completely new challenges, such as taking up a new hobby. Here are some ideas to help keep your brain sharp:
Choose activities that stimulate your thinking. Reading a book or newspaper is more active for your brain than watching the television.
Join a social group (ex: book club, bunco group, walking group, bridge club). Socializing with others engages your mind, especially when you focus on new ideas or ways of doing things.
Enjoy music. Play an instrument, if you know how. If not, sing along with the melodies you know or try to learn some new songs you enjoy hearing at church, on the radio, or through CDs.
Combine physical activity and brain exercises. Some gaming systems (e.g., Wii) offer games that are physically active and challenge your brain. Combining thinking and moving, is more likely to improve both your brain and balance because of the challenge of doing two activities at once.
For driving-specific brain exercises that may help individuals continue driving safely, BrainHQ offers free and subscription-based activities. These exercises can be found by accessing the BrainHQ website.
Another option for seniors is Lifelong Driver, a program using computer based training, interactive videos, in-car exercises, and at-home activities to help older drivers reduce their crash risk.  The program is available at a discount to AAA members.
Preparation
Unexpected events such as running low on gas in an unfamiliar area, taking a wrong turn, and heavy traffic can make the driving task even more challenging. With some pre-planning, you can avoid many of these stressful situations and improve your confidence and comfort behind the wheel.
Maintain your vehicle. Regular maintenance, including checking tire pressure and wear, can help prevent unexpected vehicle malfunctions and improve your confidence in your car. Don't forget to keep your windows, windshield, and lights clean and free of debris and change your wiper blades regularly.
Fill up with gasoline before you near empty. Plan to get gas when you are in familiar areas in order to minimize the need to find stations while driving on unfamiliar roads. Searching for gas stations, while checking your gas gauge, and navigating unfamiliar streets further divides your attention from the complex task of monitoring the roadway.
Plan your route before leaving. Plan ahead and review your route so that you are familiar with and can anticipate turns. Whenever possible, choose familiar streets and try to avoid areas with heavy traffic. If using a GPS device or navigation app, it should be hands-free and mounted to a location that will not block your view. Always pull off the road to program your device.
Drive during daylight hours and good weather. Many older drivers struggle with vision changes that affect their ability to clearly see and judge other cars during times of low light and at nighttime. Plan ahead and schedule appointments and errands for times that lighting will be better for clear vision. Bad weather such as rain, fog, and snow/ice increase the demand and difficulty of driving and can impact the ability of seniors to drive safely. Consider rescheduling appointments and errands when the weather is not ideal for safe driving.
Be prepared for emergencies. Sometimes emergencies are unavoidable, despite well-laid plans. Whether the emergency is a flat tire or getting lost, there are some basic things you can do to prepare. Having a cell phone and car charger with you when you drive gives you the peace of mind to know you can get assistance, should you need it. Remember to pull over, well off the road, before using your cell phone. Other items that may help in an emergency include jumper cables, flashlight, and basic tools.
Some individuals find that membership in an auto club or purchasing roadside service through insurance helps put their mind at ease. If you believe these programs might provide an additional level of comfort for you, contact your local auto club or insurance agent for more information and to request quotes.

Health and Fitness
As people age, they may notice changes in their physical abilities. Strength and flexibility are often affected by the normal aging process. While these changes can affect a person's ability to continue to drive safely, it is important to understand there are ways to combat these changes. Getting regular exercise, which can be as simple as taking brisk walks, and stretching regularly can help maintain the flexibility, strength, and coordination needed to keep driving safely.
The Hartford Center for Mature Market Excellence and the MIT AgeLab offer simple exercises to help you maintain the physical skills needed to drive. You can access the Exercises for Mature Drivers brochure or watch short videos below:
Range of Motion
Flexibility
Coordination
Strength
The AAA Senior Driving website offers additional information on maintaining the physical skills needed for safe driving.